Stuart Turner Pump Repairs Dublin
Welcome To Apartment Pump Repairs we are a water pump repair company who are based in Dublin and repair domestic Stuart Turner water booster pumps we also specialize in the service and repair of Monsoon  and universal water pumps. The modern apartment is now equipped with a water booster pump to deliver water pressure to sinks toilets and showers. We service and repair the following pumps.
These range of water booster pumps are hard working pumps providing water to your apartment 24 hours a day 7 days a week and some times they may need a slight repair after a few years of working hard to boost water around your home. Our moble units carry spare pumps and parts to carry out a speedy repair on your water pump.
Stuart Turner Repair And Service Call Outs Dublin North Side & Dublin South Side.
Apartment Pump Repair  The water service in most apartments in Dublin is serviced by a water booster pump and sometimes these pumps may cause a problem from time to time. Most apartment pumps are either Stuart Turner, Grundfos or Salamander water pumps.
At Apartment pumps Dublin we can repair your Stuart Turner or grundfos water pump or install a new or reconditioned booster pump. We specialize mostly in the Stuart Turner and Grundfos booster pumps. We have access to and carry all spare parts for the most common Stuart Turner pumps.
Stuart Turner Pump Range Apartment Water Booster Pumps
Stuart Turner Monsoon Water Pump Repair
The Stuart Turner Monsoon Pump Range are high performance, quality twin brass domestic apartment shower pumps and entire house or apartment water pressure boosting pumps that will give you years of service. The Stuart Turner monsoon pump range can be repaired as Stuart Turner now offer service packs that will allow you repair any fault you will have with your pump.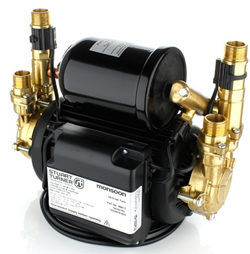 For more information on the full range of Stuart Turner pumps you can visit their main website that will have all the technical information and specifications to allow you choose the water pump that will suit your need for a house or apartment.